Hello, I'm Mel! I'm a queer Filipina artist and writer who loves to create and experiment. It's time for Icon Day once again! Be sure to read the rules as we've updated them a bit regarding references, tipping, and signal boosting. We're also going to try drawing them traditionally for the first time.

SCHEDULE
FREE requests until 11:59pm (UTC +08:00) of July 7, 2014.
Tips for incentives will be open until 11:59pm of July 14, 2014.
Anyone who tips by July 14, 2014 is guaranteed an icon even if free requests are closed.

We reserve the right to close the request window early if we feel it is reaching our limit. We will be doing these in our spare time outside of our other commitments. Please be willing to wait for your icon.

New here? Can't tip? That's okay: consider this a gift! :)

Here's what happens:
1. Follow the rules!
2. Leave a request in the comments section
3. We'll draw your icons traditionally at 1.5x1.5 inches.
4. We'll post all finished icons at 100x100 pixels in one go.
5. Celebrate and dance so free!
• BONUS: Leave a tip and unlock bonuses that will upgrade your free icon. Extras include: inked icons, colored icons, extra icons, art cards, full body illustrations, digital painting… and more!

We can draw you, your friend, your favorite character, your own character, animals, pets... or you can leave us a prompt: happy, sad, winter, autumn, smiling, formal, silly, unless you want us to surprise you. ;)

SAMPLES!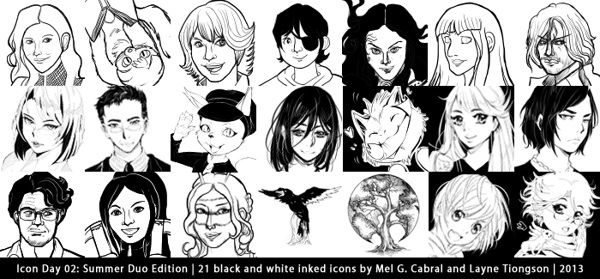 Results of Icon Day 02, a collaboration with artist friend Layne, where Inked Icons For All were unlocked!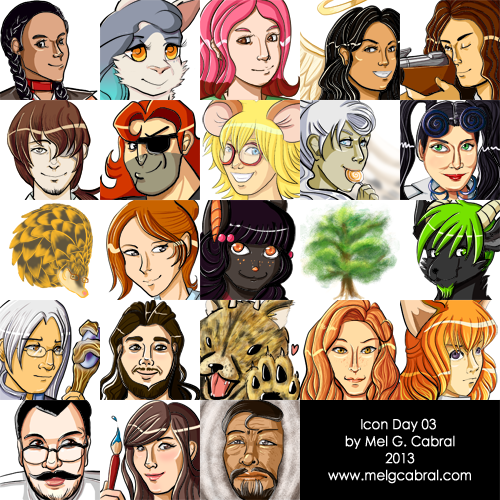 Results of Icon Day 03, where Colored Icons for All were unlocked!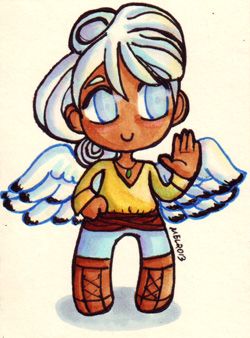 Plus an extra ACEO for a tipper who reached the individual incentive perk!

RULES
Please make sure your request follows these rules! If you don't, we have the right to change your request into anything we want... including a simple smiley face or a scribbly heart.

RATED G. Please make all requests and reference images appropriate for all ages. Comments breaking this rule will be screened and you will not get an icon!

ONE REQUEST PER PERSON! That is, unless we unlock tip tiers that let your request more. One character per request, please!

PLEASE LEAVE REFERENCE IMAGES WITH A BRIEF DESCRIPTION We work best with visuals! You may provide different images for different parts of your character if you don't have a pre-existing reference, You may leave links in your comment (please make sure they're open to the public and not in locked communities or websites), or PM/e-mail us your reference images if you want some privacy.

Unless you are tipping for a full body illustration, it's best to keep your description and visual references from the shoulders up to save us both time! :)

KEEP IT SIMPLE! These icons will be small, usually head shots. Mascots or small pets may be included depending on the difficulty level. We reserve the right to simplify your request to make it fit into an icon.

Our only requirements are that you PLEASE SIGNAL BOOST if you request!
When you signal boost, please include THE NAME OF THE EVENT (Icon Day 05) and THE NAME OF THE ARTIST (Mellama/itsamellama/Mel G. Cabral). Preferred pronouns: they/their/them but she/her/her also acceptable.

Let us know in your comment where you signal boosted with a link and/or screencap. :D

And, after receiving your icon, please SHARE IT WITH YOUR FRIENDS and please CREDIT US WITH A LINK BACK if you use it anywhere. Let's get people hyped for the next one! :)

REQUEST FORM
Copy and paste this into the comment area, replacing the answers with your own.



Any questions? E-mail mel.g.cabral [AT] gmail [DOT] com.



All icons are licensed under a Creative Commons Attribution-NonCommercial 3.0 Unported License.

UPDATES
We'll be posting updates and works in progress in my Dreamwidth and tumblr blog under the tag "Icon Day". When we're done, we will post them in a batch and reply to each comment individually with the finished product. Track or bookmark your comment to make it easier for you. :) If you have no Livejournal or Dreamwidth account and need us to e-mail you your icon, let us know in your request.

TIPS
Any and all tips are greatly appreciated! :D Your patronage allows us to keep making fun and awesome art and making great ideas come into fruition.

If you tip:
• Please note that PayPal takes a small percentage from every tip (and also conversion eats up even more), hence we get a little less than what you drop into the jar. :o A little extra goes a long way for us! :)
• Please don't tip less than $1. PayPal takes so much from it that it almost becomes null.
• Please mention that you tipped in your comment so that we can give you your incentive. You don't have to leave your Paypal information in the comment for security reasons.
• !!!IMPORTANT!!!: Please either PM or e-mail me your PayPal address or leave a note in your PayPal donation with your username so that I can identify you. Confirmation numbers do NOT match up for me and the tippers probably because the payment has to jump through so many hoops, so giving me your Paypal email or username would make things easier for both of us. :) I will keep your PayPal information private.

If you plan to tip but haven't yet, make sure to follow up when you have tipped. We may follow-up on this too!

TIP TALLY
If tips reach…

$0
We will draw a clean sketch icon for everyone who requests! People who tip will get their icons in ink.

$20 REACHED!
I get to treat my partner to a nice lunch out!

$50
We will ink the icons of everyone who requests, and I could possibly treat myself to a new video game! Yay!

$100
All of the icon requests will be inked and flat colored.
People who tip at least $10 will get theirs with shading.

$200
All of the icon requests will be inked, in color, and shaded.

$300
People who tip get a second icon.
Either leave a request for both icons or let me surprise you based on your first request.

$500
People who tip will get a third icon.
Either leave a request for both icons or let me surprise you based on your first request.

$1000
I'll livestream myself drawing some of the icons on a weekend? Barring that I will record the entire time I work on the icons and post it as a sped-up video? Also Iiii might be able to finally afford a WACOM Cintiq drawing tablet (or at least be super close to it)??? :OOOO

$1500
I will hold another livestream and ask people for themes and I will raffle off the resulting illustrations as prizes for a lucky few, yay!!!

BONUS: INDIVIDUAL TIP INCENTIVES
Anybody who tips at least…

$20
Gets their first icon upgraded to a colored ACEO! Choose between a bust shot or a chibi :) OR...

NEW INCENTIVES GET!

$20
Gets two fully colored and shaded characters in their first icon regardless of tip tally

$50
Gets their first icon upgraded to a full body colored and soft/cel-shaded illustration. Woohoo!
- OR… -
Gets their first icon upgraded to a digitally painted portrait.

$100
Gets their first icon upgraded to a full body digital painting.

I am currently not accepting trades as a form of tips at this time. Sorry!

Click the tip jar below to leave a tip directly via PayPal! You don't need an account to do so. A debit card or credit card works just as well. :)



Alternatively, you can also leave me a tip via Gumroad!

TIP TOTAL SO FAR: $56.09
UNLOCKED: Inked icons for all!
as of July 13, 2014 (UTC +08:00)

NEXT INCENTIVE LEVEL: $100 = Flat colored icons for everyone!

Want to donate but can't use PayPal or Gumroad? Let us know and we can work something out. :) There's always bank deposits, meet-ups, and other possible payment options.

WANT MORE ART FROM ME?
If you are interested in my other services, I also do more complex Art Commissions.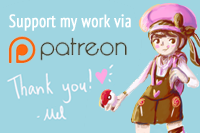 I've also got a Patreon where you can directly support my work. :)

Thanks everyone! Let's have another great Icon Day!

Hi! This was originally posted at http://itsamellama.dreamwidth.org/76082.html. You can comment there using OpenID. I mainly use Dreamwidth now; please feel free to follow me there!