It's afternoon where I am, at least. I spent my morning taking a long walk and finally playing Pokemon Go (yay, super cheap data plans I can afford on my tiny budget!), so I finally just reached level 10 ; w;
Yesterday, I jogged/ran for 1 hr, and according to Strava, I hit 6km??? I am joining a marathon in early Sept, I hope I can be prepared by then.
Tonight, I'll be having dinner with my partner at a really nice Japanese restaurant we tried recently :D I'm really looking forward to it~
(
Collapse
)
If you'd like to treat me to something for my birthday, dropping something in the tip jar would be awesome~
(You can also leave a tip via
Gumroad~
)
Things that would make my year: slowly building up my Patreon total, even a dollar a month really, really helps, especially now that I'm back to studying + part-time freelancing ; w ; ♥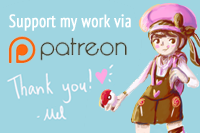 Thank you so much!!!
Hi! This was originally posted at http://itsamellama.dreamwidth.org/152626.html. You can comment there using OpenID. I mainly use Dreamwidth now; please feel free to follow me there!